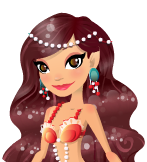 The Sweetwater Mermaid
You summon this mermaid by using the Coral Mermaid, and the Opal Mermaid.
Description
Edit
Whenever it rains on the surface, she collects all the raindrops, just for herself. From this harvest, she makes a sweet smelling perfume.
Ad blocker interference detected!
Wikia is a free-to-use site that makes money from advertising. We have a modified experience for viewers using ad blockers

Wikia is not accessible if you've made further modifications. Remove the custom ad blocker rule(s) and the page will load as expected.