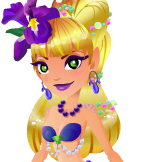 You summon this mermaid by using Blue Belle and Kelp or Honey Dew and Aqua.
DescriptionEdit
Royal roots make for a special queen bee. Interactions must please her finicky ways, by appealing to her fickle preferences of all things purple.
Ad blocker interference detected!
Wikia is a free-to-use site that makes money from advertising. We have a modified experience for viewers using ad blockers

Wikia is not accessible if you've made further modifications. Remove the custom ad blocker rule(s) and the page will load as expected.