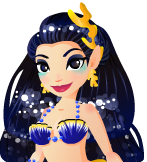 The Blue Belle Mermaid
You summon this mermaid by using the Citrine Mermaid and the Aqua Mermaid.
Description
Edit
Quiet by nature, she secretly likes to tickle the sea vegetation on the ocean floor. The resulting giggles cause an eruption of waves.
Ad blocker interference detected!
Wikia is a free-to-use site that makes money from advertising. We have a modified experience for viewers using ad blockers

Wikia is not accessible if you've made further modifications. Remove the custom ad blocker rule(s) and the page will load as expected.