Brooke The Aqua Mermaid Brooke The Aqua Mermaid is the first mermaid you obtain when you download the app. 
Description
Edit
One with the sea, she mirrors the reflection of the water with her very essence, inbuing the dephts of the blue. Serene glances charm all passing creatures.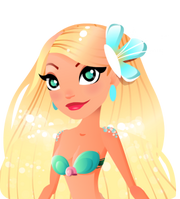 Ad blocker interference detected!
Wikia is a free-to-use site that makes money from advertising. We have a modified experience for viewers using ad blockers

Wikia is not accessible if you've made further modifications. Remove the custom ad blocker rule(s) and the page will load as expected.